CoCGMS v2.9.0 Available
Details

Monday, December 19, 2022 - 3:54 pm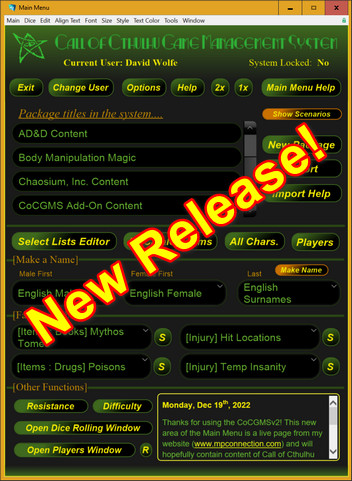 I know it's been almost 4 years since I released the last version of the CoCGMS. Anyone using this gaming app may have thought it was abandon-ware with the lack of new content here on the site. But, contrary to that, I have been consistently improving the app to suit my own needs and here it is, finally ready to be re-issued with all the things I have done to it since the last version.
If you'd like to check out the changes since the last version check out the ChangeLog option on the menu and you'll see all of the things I've done, fixed and added to this version.
New security requirements for code signing in macOS Mojave 10.14 and higher mean that running the CoCGMSv2.app file for the first time may result in a crash message. This is easily remedied. Check out the Read Me file in the Mac download ZIP for a quick terminal command that will take care of the issue.