Dark Cults

This is an older FileMaker database I created some years ago as a homage to a classic, simple two-player card game called Dark Cults. This game is long out of print and I've tried to track down the author to get permission to post it for free but I've been unable to find any way to contact him. Hopefully this doesn't offend anyone as it's not my intention to infringe on anyone's ownership of this game. To be clear, this is a game created by Kenneth Rahman and published by Dark House Publishing. I've simply recreated it as a FileMaker interactive database as a game platform.
Currently this database hasn't been compiled into an executable for Windows or Mac like the CoCGMS has. This game is intended to be played using FileMaker Go under iOS. To play it, grab the latest version of FileMaker Go from the App Store and transfer the game to your device using iTunes or some other file client like FileBrowser which lets you access files via a shared folder, cloud storage, FTP, etc.
Once FileMaker Go has been installed and the database transferred over, launch FM Go and tap to load the database. Play is done on a single device and each player takes a turn, passing the device when it's the other player's turn. The game rules are available from the Main Menu and a catalog of all the cards can be viewed to familiarize yourself with the deck.
I apologize but I can't seem to find the original instructions PDF I created to fully explain how to use the interface. I hope to redo that in the near future. But basically, click New Game to create a new game. Multiple games can created and played. Each game will be resumed from the last play when it's opened or you can return to completed games to see how it played out.
Each player has a key they use to open their hand. Life's default key is 11 and Death's is 99. Enter the your key when it's your turn to open your hand. Close your hand before passing the device to the other player.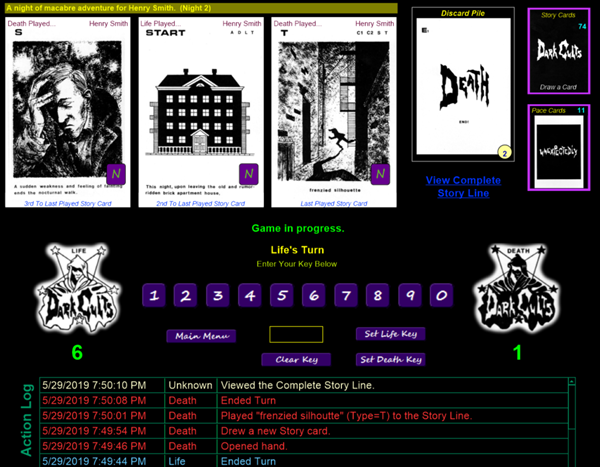 Once your hand is open, you'll see your cards and can play as the rules dictate. Read over the game instructions and hopefully you can work out the interface. Once you've made your play, End your turn and pass the device to the other player for their turn. If you don't want to end your turn but the other played would like to review their hand (perhaps for an end of round scenario) you can Close your hand without ending your turn. Both players always see the storyline as it's been played.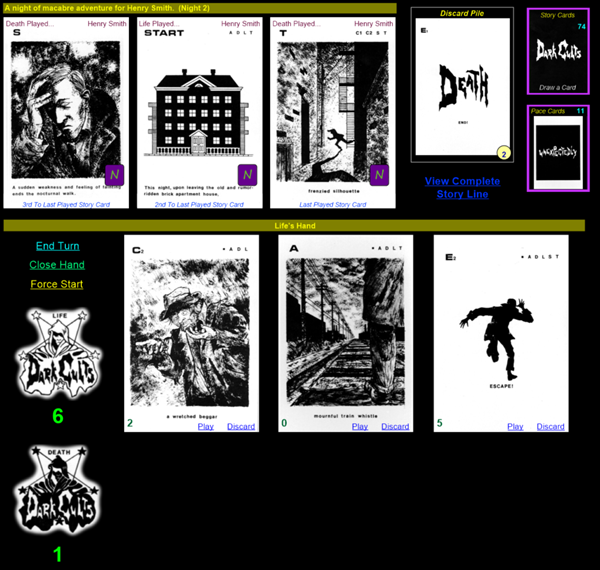 There is a default game in the database that is 13 cards into play. My buddy Tim and I are frequent players of Dark Cults when we can get together so you'll find our names as the player names. When we play we like to create a fairly complete narrative to go along with the cards we play so you'll find options in the game for adding a more complete narrative for each card played and a feature to view all plays and the accompanying story told for each.
Please enjoy the game and tell a good story as you do. Dim the lights, pour yourselves a good drink of your choice and have fun. Feel free to contact me if you have any questions about the game.