Scenario - Table of Contents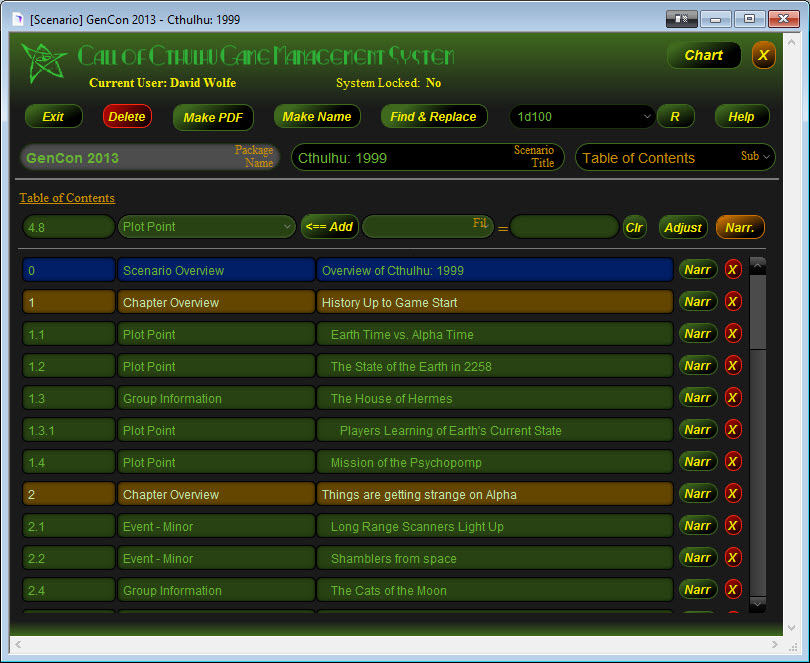 This screenshot shows the Table of Contents or ToC for a scenario in the CoCGMS. Parts are added to the ToC by the top controls and ordered numerically as you specify. ##.##.##.## style notation is used to define a part order. Example, 2.3.13 would be Chapter 2, section 3, sub area 13. The system will display the ToC order in the proper sequence number.
Each part has a Type definition to help you tag the kind of part it is. Part Types are things like Plot Point, Event - Major, Group Information, etc. These part types are completely customizable by you within the system to suit your logic process. The only requirement is to keep the Scenario Overview and Chapter Overview type as these are important to the background function of the ToC.
Each part will also have a title. This is a free form title you define to describe the part.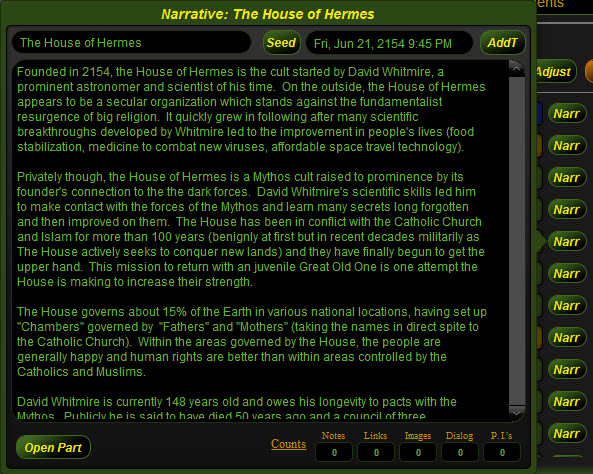 Many other features are part of a scenario part; narrative content (the bulk of the part story data), images, timing, notes, links, dialog, print items, etc. The Narr button on the ToC gives you quick access to editing the narrative content of a part without having to open the full part in a new window. The counters at the bottom of the Narr popover give a count of the number of attached items to the scenario part. You can click on the counter fields to open up the scenario part and jump right to the data area.